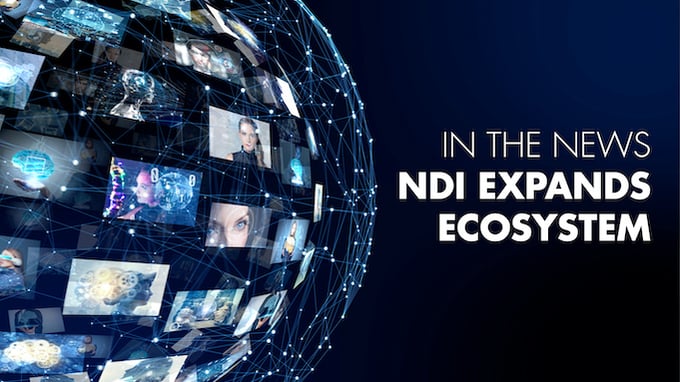 NDI has unveiled a series of initiatives aimed at expanding its ecosystem, transforming the video industry, and promoting seamless interoperability between hardware, software, and cloud. With over 600,000 devices from companies like Panasonic, Sony, and BirdDog currently NDI-enabled, NDI is revolutionizing the way video is captured, shared, and accessed across various industries.
NDI ecosystem and support
NDI certification programs and community initiatives

NDI SDK and Advanced

Core benefits of NDI
The future of NDI
NDI and WATCHOUT
NDI ecosystem and support
NDI is supported by ecosystem partners such as AMD, JVC, Panasonic, Vizrt (owner of NDI/NewTek), SONY, Zoom, BirdDog, Mevo, and Ross Video. The technology is also backed by widely used software applications in AV and broadcasting, such as Microsoft Teams, TriCaster, vMix and Grass Valley.
With the certification programs and community initiatives, it is clear that NDI sees its future best enabled through the size and diversity of its ecosystem.
Dataton has worked with NDI since 2017 and released the first version of its WATCHOUT multi-display software with NDI back in 2018.
NDI certification programs and community initiatives
To maintain consistency during ecosystem expansion, NDI offers two certification programs: NDI Certified for products with NDI Advanced features and Works with NDI for devices that do not require native NDI integration but need guaranteed full compatibility with the NDI ecosystem.
To increase engagement, NDI will organize community initiatives throughout the year, including the first-ever NDI Hackathon and an NDI Beta program that grants early access to technology updates.
NDI SDK AND NDI ADVANCED
The new NDI SDK makes the core technology available to anyone exploring new use cases, while the NDI Advanced provides access to the efficient NDI format HX3, harnessing H.264 and HEVC codecs to transmit visually lossless video using just 50MBs of bandwidth. It also offers additional APIs and dedicated customer support. NDI SDK is exclusively available for software solutions, while Advanced also is available for hardware in addition to software.
Core benefits of NDI
Among the core benefits of NDI, you find interoperability, plug & play and the quality and efficiency of the codec.
High Efficiency: Achieve visually lossless video up to 4k60 with minimal bandwidth consumption using advanced formats like HX3. NDI can be incorporated into hardware or software layers, tailoring processing performance to suit your requirements, and it removes the need for costly cables and equipment while preparing your setup for cost-effective scaling.
Plug & Play: Effortlessly discover, organize, and connect multiple devices in a seamless and user-friendly experience, allowing you to easily link and connect any NDI-enabled device via standard ethernet, eliminating the need for specialized networking.
Interoperability: Ensure true compatibility within an expanding ecosystem that encompasses thousands of products, ranging from consumer devices to professional-grade hardware and top-tier software. According to NDI over 600,000 devices, from companies such as Panasonic, Sony or BirdDog are NDI-enabled and the technology is supported by widely-used software applications in AV and broadcasting such as Microsoft Teams or Grass Valley and Dataton, of course.
The future of NDI
NDI's vision for the future involves a world where video is the primary medium for human and machine interaction. Advances in cloud computing, AI technology, and 5G networks are driving the development of efficient, easy-to-use, and interoperable technology for video connections across multiple industries, including healthcare, education, and security, in addition to the already known use cases such as live events, broadcast and the entertainment industry.
NDI and WATCHOUT
Since the introduction of NDI in WATCHOUT in 2018, Dataton has continued developing the features of NDI in its media servers. With the upcoming version 7 release of WATCHOUT, previewed at ISE 2023 and Prolight + Sound, additional features of NDI will be added, including inputs and outputs. NDI is a key requirement for many installations and adding more NDI features in the WATCHOUT family of products is a natural development.
Read more about WATCHOUT 7 here: The Next Chapter
More reading:
Guide to becoming a media server professional, part 9
Esports pioneers the future of hybrid immersive live events