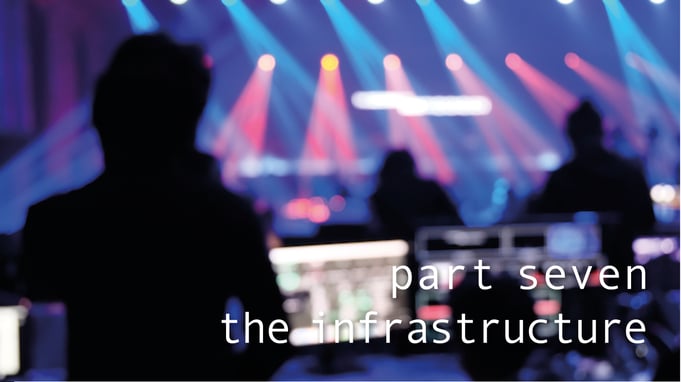 Interested in becoming a professional media server operator or user, but aren't sure which skills you need? In the seventh blog in this series, we focus on infrastructure and system setup, including connectivity and capturing content from external sources.
These posts are based on recommendations from the fine people of the Media Server Professionals (Facebook) group.
Even if you really know your way around the media server system itself, you also need to be able to connect your media server to the other components of the show. Input, output, throughput, whatever put comes to mind – you need to be on top. This blog takes a look at the most relevant connectors and standards (video and audio). The next instalment in this series will tackle standards for network and communications.
Connectivity and adaptors
Connectors for video standards
HDMI
DVI
SDI
DisplayPort
HDBaseT
Connectivity: audio devices
Jack plugs / T(R)S connectors / Phone plugs
RCA
3-pin XLR
Balanced audio
Digital audio – AES3
Digital audio – S/PDIF
MADI
Digital audio – ADAT Lightpipe
Adapters/converters
Resolution and cable length
Connectivity (and adapters)
There are many kinds of devices with many kinds of connectors that you can hook-up to your media server. I will break them down into the following categories:
Video
Audio
Network & communications (covered in next blog)
Connectors for video standards
Playing back video/images is the main feature of a media server, and since there are many types of cable/connectivity out there, let us start with the most common ones: HDMI, DVI, SDI and DisplayPort.
HDMI®
HDMI is an interface designed for transmitting high-quality, high-bandwidth streams of audio and video between devices, such as projectors, TVs, game consoles or computer monitors. HDMI is a proprietary interface, established in 2003 by Hitachi, Panasonic, Philips, Silicon Image, Sony, Thomson, RCA and Toshiba.
HDMI uses HDCP (High-bandwidth Digital Content Protection) as technology for digital rights management. HDCP was developed by Intel to match the guidelines set by the Digital Content Protection group.
While HDCP managed properly should not be a problem, many media server operators and professionals have tools to help with potential challenges related to HDCP. In a previous article "What are the most important tools for a video professional" I give a few hints on this topic… 😜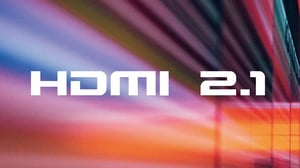 HDMI is currently at version 2.1 (more about HDMI here) and supports up to 48 Gbit/s data throughput – resolutions up to 10K. it also includes HDR, high resolutions and fast refresh rates such as 8K@60Hz and 4K@120Hz. 10K resolution (10240 × 4320) is not a traditional TV or cinema standard but may find its way into the commercial AV industry.
DVI
Digital Visual Interface (DVI) is a video display interface developed by the Digital Display Working Group (DDWG) and was announced in 1999. DVI was developed to be an industry standard for the transfer of digital video content, and supports uncompressed digital video. It has the following modes:
DVI-A (analog only)
DVI-D (digital only)
DVI-I (Integrated, digital and analog).
It supports analog connections and is compatible with the traditionally very popular VGA interface – yet very outdated when this is written, so it does not really add too much value…
DVI is characterized by the two operating modes, single and dual link. While the Single Link supports up to 3,96 Gbit/s data including overhead it can give a max resolution of 2048 x 1080 at 60Hz. With Dual Link, you use two channels of up to 2048 x1080 each allowing support for higher resolutions, up to 7.92 Gbit/s bandwidth and a max resolution of WQUXGA (3840 x 2400) at 30Hz or WQXGA (2560 × 1600) at 60Hz.
NB: Make sure the cable and adapter you are using are, in fact, dual link – some manufacturers have been known to use a dual link connector on single link cable…
SDI
The Serial Digital Interface (SDI) is a family of digital video interfaces (SDI, HD-SDI, 3G-SDI, 6G-SDI and 12G-SDI) by SMPTE (The Society of Motion Picture and Television Engineers). The first standard was announced in 1989 and the 6G/12G was published in 2015.
The standard has been widely adopted by the broadcast and live event industry, and is used for transmission of uncompressed, unencrypted digital video signals in TV studios and for touring artists/live gigs.
The SDI standard has evolved alongside the other display interfaces, and additional versions of the SDI standard have been developed to support continuously increased resolutions (HD, UHD, 4K, 8K), higher bitrates and more colors. 12G SDI supports 4K@60 and HDR.
SDI as a standard has several benefits over the other display interfaces.
Support long cable lengths
Physical connector is more rugged, with close-fitting and locking options built in
It supports fully uncompressed audio and video
No HDCP
SDI has time-code embedded
Latency free
Cost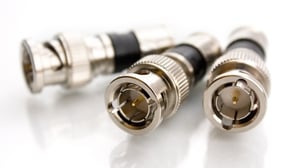 Read more about the SDI standard here, including the benefits:
DisplayPort
DisplayPort (DP) is a digital display interface standardized by the Video Electronics Standards Association (VESA). The first version dates back to 2006. The interface is primarily used to connect a video source to a display device, such as a computer monitor or projector. In addition to video signals, DVI can also carry audio, USB, and other forms of data as it sends the signals digitally through packeted data transmission, much like what you find in Ethernet and USB.
DisplayPort was designed to replace VGA and DVI, and the interface is backward compatible with other interfaces, such as HDMI and DVI, through the use of either active or passive adapters.
The current version of DisplayPort announced is 2.0 (June 2019) and will not be found commercially in units until late 2020. So, the current version in public is 1.4a, building on 1.4 announced in 2016. It supports bandwidths up to 32,4 Gbit/s, High Dynamic Range, Rec 2020 color space. It supports up to 8K UHD (7680x4320) at 60Hz or 4K UHD (3840x2160) at 120Hz.
With 2.0 the total bandwidth increases up to 80 Gbit/s which is almost twice the HDMI 2.0 standard.
The DisplayPort connector is found in three flavors: DisplayPort, Mini DisplayPort and USB-C. While the Mini DisplayPort has a limitation of WQXGA (version 1.1a) and 4K (4096 x 2160) in version 1.2. The USB-C version supports up to 8K @ 60Hz.
HDBaseT
The HDBaseT is a rather new standard for transmission of video signals. In addition to video signals, the HDBaseT is also defined to embed audio, USB, 100W power, control commands – as well as Ethernet data over a single cable. The standard was developed by HDBaseT Alliance, which has more than 200 members globally, including companies such as LG, Samsung, SONY, Panasonic, Advoli, EPSON and many more.
I decided to cover this standard here because the HDBaseT solution is available in graphics cards that can be used in media servers today – especially for those media server vendors who offer a software solution where you build your own hardware platform.
While all other video standards operate with a proprietary connector, the HDBaseT uses standard Ethernet (RJ45), and the standard allows you to send signals with 4K resolution at 60Hz (4:4:4 8-bit) over 100 m (328 ft) using CAT cable, which is a standardized twisted pair cable used for Ethernet communications.
Another example is the Advoli TA6 Performance graphics card, which supports 6 x UHD channels at 30 Hz over 100 meter cable (CAT-7).
While the standard uses CAT cable, it is not defined as a network-based video standard (which I will cover later in the article) such as NDI® from NewTek™ or SDVoE®.
Connectivity for audio devices
There are a few variants of audio connectors in the market. The far most common types are 3-pin XLR, RCA and jack plugs (TRS connectors) in addition to the digital audio standards ADAT and S/PDIF. Most media servers offer jack plugs and often also XLR and digital audio – at least as options. I have earlier blogged about audio formats. You can read about the most common audio formats here: "Common audio formats: which one to use".
Jack plugs / T(R)S Connectors / Phone plug

The jack plug is by far the oldest connector still being used in modern AV, as far as I can tell. Its roots go back to the late 1800s when the first-ever telephone switchboard was inst
alled. While the TRS connectors are not seen as professional or high-end, you still find media operators accepting inputs from devices at conventions, corporate events and such – as the connector was predominant as the "standard" of headphones and sound output from almost any ha
Example of connectors:ndheld device. The devices are also often referred to as a phone plug.
2.5 mm mono (TS)
3.5 mm mono (TS)
3.5 mm stereo (TRS)
6.35 mm (​1⁄4 in) (TRS)
The adoption of this type of connector and its variations are widespread, ranging from military standards to aviation and broadcast. Many added their own twist to the connector which has naturally not found its way into mainstream gadgets.
RCA
The RCA connector is often called a phono connector and is commonly found in AV to carry audio signals (it carries video too – composite signal – but is basically not in use anymore, usurped by the video standards mentioned above).
The name RCA derives from Radio Corporation of America which introduced the design in early 1940 for connection in home radio-phonograph systems. With its low-cost and simple design, it has found its way from home systems to professional audio, while the TRS systems (jack) are dominant in the home market.
With its name phono connector, it can be confused with the TRS which are named phone connectors, so be aware of any potential miscommunications here.
3-pin XLR (Cannon connector)
The XLR (External Line Return) connector is primarily found in professional audio and stage lighting equipment. The connectors have between three and seven pins and a physical locking mechanism that both jack and RCS connectors lack. They are most commonly associated with balanced audio, including AES3 digital audio.
The XLR connector was invented by James Cannon, founder of Cannon Electric in the USA – and it was also, at least initially, known as a Cannon plug or Cannon connector. The first version was taken to market as "Cannon X series". In the 1950s, the latch was added to the connector and it became "Cannon XL". Later two versions were made, one filled with rubber (resilient polychloroprene), the XRL and one filled with plastic, the XLP.

Quite soon after the development of the Cannon XLR, other companies such as Neutrik and Switchcraft started developing compatible connectors and the 3-pin XLR is by far the most known connector for musicians and audio engineers across the world.
Balanced audio
Balanced audio is a way to connect audio equipment. This type of connection is important in sound recording and production, since it allows the use of long cables while reducing external noise caused by electromagnetic interference.
The balanced connections typically use 3-pin XLR or 1⁄4-inch (6.35 mm) TRS jack connectors, with two cables for stereo audio.
Digital Audio – the AES3 professional interface
AES3 (AES/EBU) is a standard for the exchange of digital signals between professional audio devices. An AES3 signal can carry two channels of PCM audio (a method used to digitally represent sampled analog signals, the standard form of digital audio in computers' digital audio applications) over transmission media such as balanced lines, unbalanced lines, and optical fiber).
AES3 was developed by the Audio Engineering Society, (AES) and the European Broadcasting Union (EBU) and was first published in 1985 with revisions in 1992 and 2003. AES3 has been incorporated into the International Electrotechnical Commission's standard IEC 60958, and is available in a consumer-grade variant known as S/PDIF.
Digital Audio – S/PDIF (SPDIF)
The S/PDIF is a digital audio standard that is based on the AES3 interconnect standard. S/PDIF was developed by Sony and Philips, hence the name SONY/Philips Digital Interface. The standard is mostly used in the consumer audio equipment market. The signal is either transmitted over a coax cable with RCA connectors or a fiber optic cable with TOSLINK connectors. TOSLINK (Toshiba Link) is a consumer-grade standard that was designed in 1983, used in CD and DVD players, DAT recorders and some video game consoles.
The S/PDIF standard was developed at the same time as AES3 and the two groups developing the standard cooperated to make sure they were at least somewhat interchangeable. The S/PDIF standard is almost identical on the protocol level, but decided to use a different set of connectivity (RCA/TOSLINK) while the AES3 use XLR.
Benefits of using TOSLINK cable vs coaxial and RCA connectors are that the fibre optical cable is immune to RF interference and ground loops. The fibre cable connector may, however, be damaged if it is bent too much.
MADI (Multichannel Audio Digital Interface) or AES10
MADI is a standard developed by Audio Engineering Society and is also known under AES10. It is used in the professional audio industry, mainly broadcast. It provides several advantages over other audio digital interface protocols and standards such as AES3, ADAT Lightpipe and S/PDIF (Sony/Philips Digital Interface):
More channels per line:

up to 64 input+output at 24-bit 48kHz
up to 16 input+output at 24-bit 192kHz

Long cable lengths:

Coax: 100 metres
Fibre optic: 3,000 metres in multi-mode and 40,000 metres in single-mode
Digital Audio – ADAT Lightpipe
The ADAT Lightpipe (or Alesis Digital Audio Tape Optical Interface) is a standard for transferring digital audio between equipment. It was initially developed by Alesis but has become broadly accepted by many more manufacturers. The ADAT Lightpipe has become so popular that the term "ADAT" is now often used to refer to the standard.
ADAT Lightpipe uses fiber optic cables to transfer data, with TOSLINK connectors and optical transceivers at either end – similar to S/PDIF. But the data streams of the two protocols are incompatible. ADAT Lightpipe devices have also been equipped with the FireWire interface – yet another type of connectivity to know about. 😀
Adapters / converters
Seeing as you will find thousands of adapters and converters in the market, I will not cover this part in great detail. My general recommendations are listed below:
Read the spec sheet thoroughly.
Many adapters and converters might seem to deliver something that they, in fact, can not. 4K is not 4K@60 with 4:4:4 and full 12-bit color depth.
Test before going live.
Test all adapters and converters in a setup-rig before embarking on the live event/gig/installation. I have found that similar adapters perform differently – and it can be a nightmare to troubleshoot!
Bring more than a few versions.
You never know what will be thrown at you in a live setting or at an installation site where you are a sub-contractor/vendor to the entire gig. "Oops, so you had a HDMI-mini? I did not bring a converter" is not what you want to tell the guy who is paying for your services.
Bring a few extra.
The more, the merrier! You do not want to discover that your system is about to fail because you did not carry a spare 20-buck adapter, right?
Resolution and cable lengths
Each video standard has its own cable with connectivity. Each cable can be manufactured with different qualities, and each of these cables will again have hundreds of different manufacturers.
You can to a certain degree use AWG (American Cable Gauge) but not all cable manufacturers will list the AWG rating. And you would need to know the AWG number that matches the kind of data stream you want to pass through it.

An example of the developer taking responsibility for a standard is HDMI® 2.1 where they have a certification program in place for the HDMI Ultra High Speed HDMI® Cable: "To identify the cable, make sure the packaging displays the required Ultra High Speed HDMI Certification Label. Please note the label includes the official Cable Name Logo printed on it. The name is also required to appear on the outer cable jacket itself."
Also, here I would recommend the four steps I listed for adapters and converters. Previous experience has shown that not all cables are created equal and it is a minor cost to check and verify that all of them actually work before hitting the install site.
Online training material
There is quite a lot of online material to find related to video and audio standards. Some manufacturers also offer free training – covering both basic and more advanced stuff. As an example, Barco offers some online courses with a video-101 section with video connectors and formats.
in Conclusion…
Many words later, I hope to have covered the most important aspects of video and audio standards and connectivity – relevant for media server operators. The next instalment in this series will look at network standards.
Feel free to reach out if you think I should add anything or if there are something that needs to be corrected! Easiest way to get connected is Facebook or LinkedIn.
Thanks as always to the following people who contributed with great ideas in the forum post:
Patrick Campbell, Ian McClain, Ola Fredenlund, Matt Ardine, Marek Papke, Eric Gazzillo, Axel Sundbotten, Joe Bleasdale, Parker Langvardt, Alex Mysterio Mueller, Christopher John Bolton, Andy Bates, David Gillett, Charlie Cooper, Tom Bass, Fred Lang, Nhoj Yelnif, Hugh Davies-Webb, Marcus Bayer, Arran Vj-Air, Manny Conde , Joel Adria, Alex Oliszewski, Ruben Laine, Jan Huewel, Majid Younis, Ernst Ziller, Marco Pastuovic, Geoffrey Platt, Ted Pallas, Dale Rehbein, Michael Kohler, Joe Dunkley, John Bulver, Jack Banks, Stuart McGowan, Todd Neville Scrutchfield
Check out the other blogs in this series!