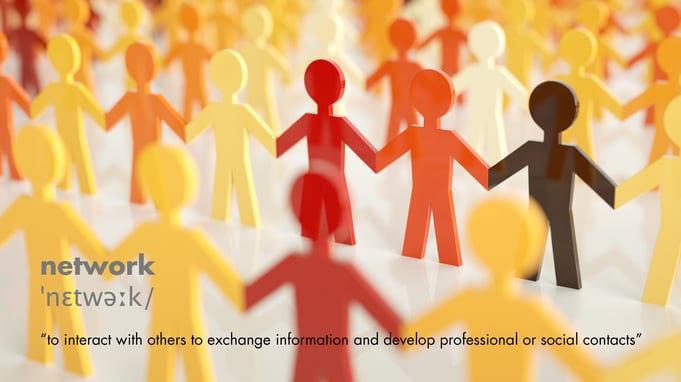 This month, I'm celebrating 40 years of working in both the AV and broadcast industries. There is no question that I could not have done this without a great network. Whether it is trade shows, industry events, social media or being a member of an organization, networking with like-minded people has fundamentally changed how I interact with new contacts. Here's why and how I choose to network!
The failed education
Early industry networking
How DO you network in AV?
Other networking outlets
Social media
The failed education
I went to a well-respected grammar school in Hertfordshire, just to the north west of London, UK. Only five of us made the cut from the junior school so I felt very privileged. Unfortunately, I was hopeless at passing exams, which was not a very useful asset at that kind of institution – a good university education was what we were all encouraged to aspire to. Not for me, sadly.
Without wishing to sound too bitter (I left in 1978 so I think I can probably say this) the school made me feel a complete failure and it affected everything about me – my thoughts, the way I felt about life and what my future career prospects might be. I really felt that the only way forward was to make my own luck and find a way of making a living. Networking was absolutely not on the agenda at this point in my life!
In my spare time while at school, I'd already been working for the sound and lighting crews in our new theatre. It was perfect for me as I didn't need any formal qualifications and there was plenty of 'on the job' training. This was where I got the taste for anything to do with AV. I'd mucked around at home with my father's reel-to-reel tape recorder and I was pretty competent at editing and dubbing, but working in the theatre environment put me in a good place. To be able to chat and network with others. In my comfort zone as it were.
early industry networking
These early steps were vital for the networking skills that I have since gained – although I didn't realise it at the time. Working as part of a team has always appealed. Making new contacts and developing those into trustworthy and friendly relationships is also important to me.
The AV industry had both of these attributes in bucket loads and I couldn't believe my luck that I had found myself working as part of a business that people seemed to enjoy! Here was a developing sector which was exciting to be a part of and all of us in it felt that we were right at the cutting edge of the new technologies and techniques.
how do you network in av?
The AV industry is a very social one and everyone seems to operate on an 'inclusive' basis. Competitors are friends; people that have left companies to go elsewhere remain in touch with their previous colleagues (usually!), and long-standing relationships are maintained with ease.
How does all of this happen though? What are the catalysts that enable it?
For me, it has been trade shows, customer events and any kind of staging of new products and ideas. Believe it or not, I used to be quite a shy individual when I first started in the AV world, but the way that the industry has shaped up has really enabled me to grow in self-confidence. In fact, to be able to feel part of the business and to feel valued by the people with whom you interact.
The trade shows that I normally attend are:
Other networking outlets
All of the above are all excellent places to network with others and I find them really valuable. However, I would say that the AV User Group has brought a whole new dimension to the way I am able to interact with industry colleagues and customers alike.
The AV User Group was started in the late 1990s and, by their own admission, was a fairly ad-hoc kind of existence. Today, they have developed a far more formal approach to the organization and have turned it into a 'not for profit' limited company with a Board of Directors and a Management Committee.
This more structured way of working has by no means diminished the friendliness, or the approachability of all the people associated with the AVUG – in fact, I would say that it has enhanced it considerably. This is a forum where end-users, vendors and consultants convene and discuss the industry challenges and opportunities.
In addition to the AVUG, there are a number of more focused groups that offer excellent networking:
I have also found that these independent media outlets offer a tremendous interchange of ideas as well as industry trends and sharing of information:
Whatever the platform for your chosen way of networking, in my experience it is immensely valuable to attend events where there are keynote or significant speakers. These people are well connected and talking to them is always interesting.
I often make a bit of a nuisance of myself by going up to these folks at the end of their presentation and speaking to them about how they got into the field of specialization in the first place. They are always generous with their time and very often have put me in touch with other people in their part of the industry, which has helped enhance my understanding of different parts of the business.
Social media
This is going to sound obvious, but why not look at the possibilities of using social media to help your networking? To be honest, I didn't really appreciate the benefits of using this kind of platform for meaningful dialogue for a long period of time. I thought it was quite superficial and never fully worthwhile.
Over the last three years or so, I have been far more active on social media, Twitter in particular. I can absolutely say that I have gained more contacts through this kind of networking than almost any other method, but only as an augmented one once I have met that person. On the other hand, I have 4,826 connections on LinkedIn and I'm still not sure about the value of this!
Face-to-face contacts are really important. By all means use intermediaries to help find out more information or to get closer to the person that you're looking to contact. But you can't beat direct communication with someone at an event or a presentation. Even in these days of the written word in social media, meeting and talking to people in real life cannot be bettered in my view.
The AV industry is stronger than ever in this respect and I am constantly impressed with how we have been able to reach out to different sectors of the community. It's great to see how many end-users have been engaged with the business as part of the events that companies hold – I think that this has been the single most important part of how our industry has developed.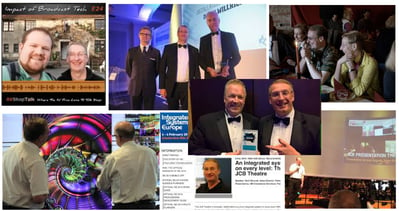 I'm happy to to carry on the conversation as well. Please do get in touch with me on Twitter, @nevtech27, if you'd like to have a chat!