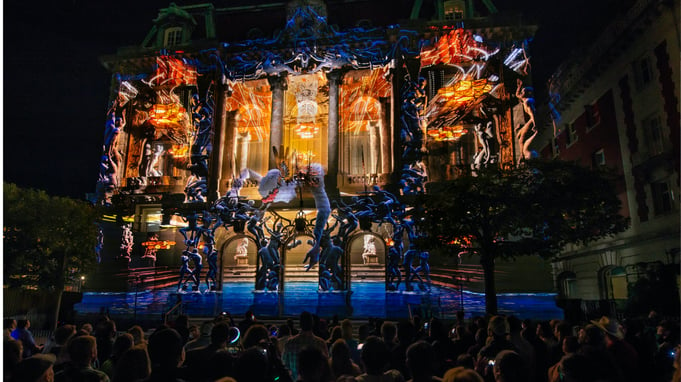 As projection-mapping continues to enchant audiences worldwide, Dataton highlights three applications, each with a different approach and each creating an unforgettable experience in art, performance and celebration.
A shared experience
An international experience
An immersive experience
A shared experience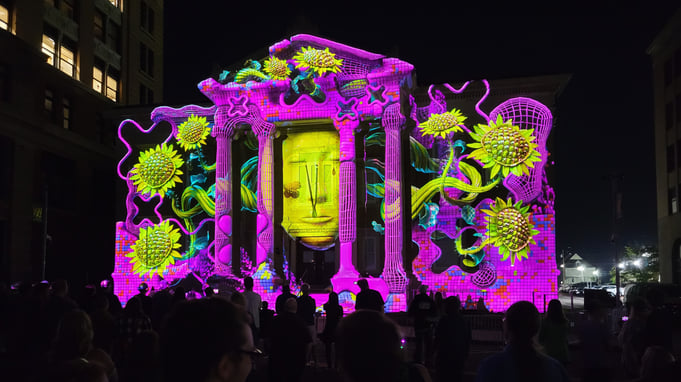 The LUMA Projection Arts Festival, Binghamton, New York, USA is an international success story, the brainchild of a street photographer, a film editor and an event planner. Using projection mapping, LUMA transforms downtown buildings, like city hall, into fantastic art works. LUMA puts a strong emphasis on the art of storytelling through projection mapping. The 2022 festival featured immersive exhibits from international artists hailing from Spain, Indonesia and Ukraine.

The artist's visions were realized with WATCHOUT-enabled projection mapping, backed by the technical knowhow of Show Sage LLC, Dataton's North American partner for many years.

"We have really enjoyed teaming up with the producers of LUMA these past years. Not only is it an ideal application for WATCHOUT, but the festival has now become the eminent recurring projection-mapped art event in the U.S., with global roots," said Jim Testa, President of Show Sage.

Festival Co-Founder Tice Lerner added, "Every year we challenge ourselves with our artist collaborators to push the boundaries of projection mapping. Scale, interactivity, unique devices for storytelling—it's always a new complexity. WATCHOUT meets the demands of those challenges with ease."
An international experience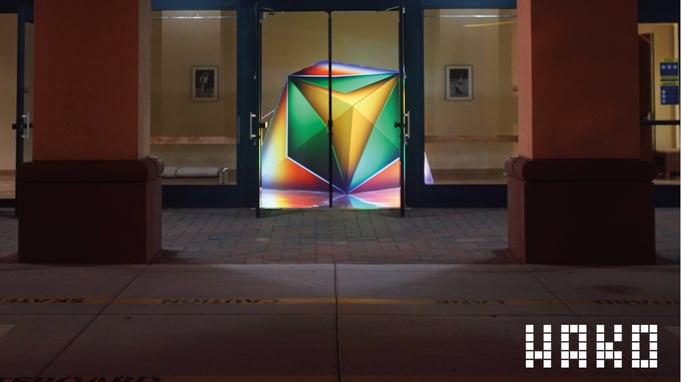 Does projection mapping always have to be on huge scale? Put simply, no.
BARTKRESA Studio is one of the leaders in innovative projection mapping design, famous for mesmerizing transformations of buildings such as Walt Disney Concert Hall and the Yaamava' Resort & Casino, as well as projection-mapped sculptures such as Shogyo Mujo. In an international project starting in 2020, the studio also created a smaller sculpture that artists could map as part of a socially distant, projection arts festival.

Following a seven-week virtual workshop, artists were invited to create content for an animated show with Hako, a simple, manipulated cube shape, as the canvas for their projection designs. Mapping transforms the cube into a dynamic work of art, showing a simple shape in new, inspired ways. Hako sculptures have since been exhibited in the US, Spain, South Africa, Canada, New Zealand and Singapore. The project engaged 50 artists and received the AVIXA 2021 AV Experience Award for Best Collaborative Experience.

Dr William Franco displayed his Hako in Wellington, New Zealand. "This was my first experience using WATCHOUT's 3D mapping capabilities and first time using a WATCHPAX. I was surprised how easy the 3D mapping was to use and the WATCHPAX was just a plug and play. The system worked flawlessly for the duration of the installation."
an immersive experience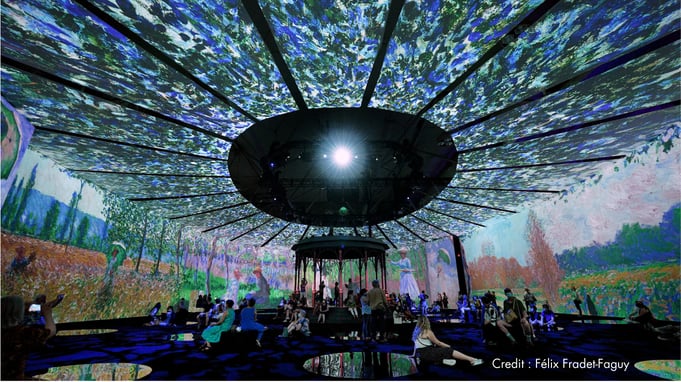 Step into the artist's world… we've all marvelled at the exhibitions that use large-scale projection to create immersive environments from masterpieces. Beyond Monet pairs traditional paintings and cutting-edge projection technology to bring visitors into the heart of the impressionist's incredible world of light and color. By Normal Studio for Paquin Entertainment, Beyond Monet in Toronto utilized forty-six projectors, running under Dataton WATCHOUT, a host of WATCHPAX media servers and production workstations provided by Dataton's North American partner, Show Sage.
After a successful debut in Toronto and sojourns in Honolulu and Miami, Beyond Monet opens in Milwaukee in October 2022. Dates have also been set for St Louis and Calgary. Over 300,000 tickets have been sold to date, so if you get the chance, go see it!
From indoor stage effects to larger-than-life visuals on architectural landscapes, mapping is an outstanding medium to create a memorable experience. Why not take your next story to a new level with projection mapping?
#projectionmapping #datatonwatchout #lumafestival #hako #NormalStudioMTL #normalstudioteam
Images courtesy of LUMA Projection Arts Festival (lead), BARTKRESA Studio, Normal Studio. The LUMA article image shows 4U by Julia Shamsheieva/Anima Lux, Ukraine, presented in 2022.
More reading:
"What is projection mapping?"
"Why is projection mapping so popular in events and marketing?"
"Five examples of creative projection mapping"
"Five more examples of creative projection mapping"
An earlier version of this blog can be seen in Livedesignonline