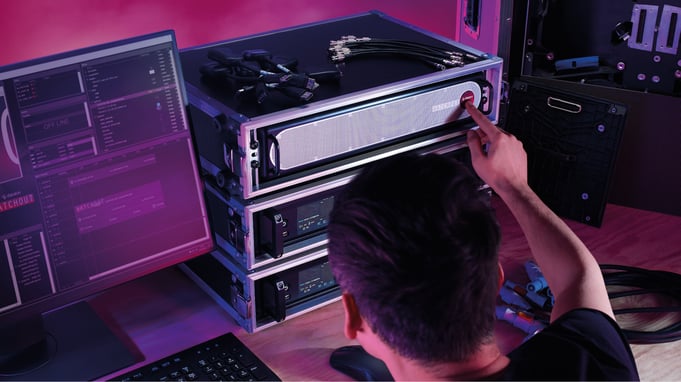 What are the hallmarks of a successful AV team? Expertise, experience, and the will to keep on learning! To make that journey easier, Dataton, creator of award-winning WATCHOUT show composer software and media servers, offers three educational avenues for people in the industry or higher education.
In-person training with the Dataton Academy
Online training at the Digital Academy
At a college near you: Educational licenses
in-person training with the dataton academy
The Dataton Academy celebrates ten years in 2022 and around 1,000 people in 25 countries have graduated! The two-day training session includes hands-on programming with certified trainers ready to offer advice and support. The first Academy took place at InfoComm in Las Vegas and participants are eligible for AVIXA renewal units. The Academy concept has been implemented by Dataton partners worldwide – the 2022 training schedule lists or has listed training in Sweden, France, South Africa, Italy and Spain.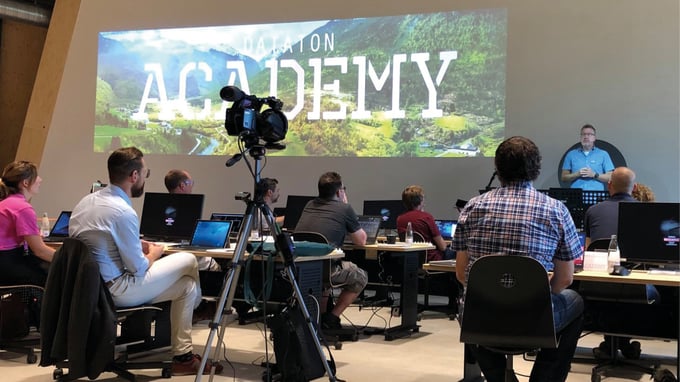 "Training is not just about teaching the best way to use an auxiliary timeline or virtual display, it's also about inspiring users to experiment and test different features," says Dataton's senior trainer, Mikael J Ena (pictured above at training in Linköping, Sweden). "We poll participants after each Academy and invariably people say that the training opened their eyes to new possibilities. In-person training also gives an opportunity for industry colleagues to share experiences and make professional connections."
online training at the digital academy
Dataton introduced the Digital Academy to provide an online training alternative to the popular in-person academy. The Digital Academy comprises four 4-hour seminars spread over two weeks; three home assignments where participants use different features in the production software, plus access to an e-learning portal to recap on seminars.
"During the pandemic, there was a heightened demand for online training, but we decided early on that it was important to limit the number of attendees even in the Digital Academy," explains Ian Johnson, lead trainer at Show Sage, Dataton's North American partner. "In a smaller group, participants are more likely to ask questions, discuss and generally engage. The trainer can have a more direct dialog, emphasizing elements if requested, without losing momentum."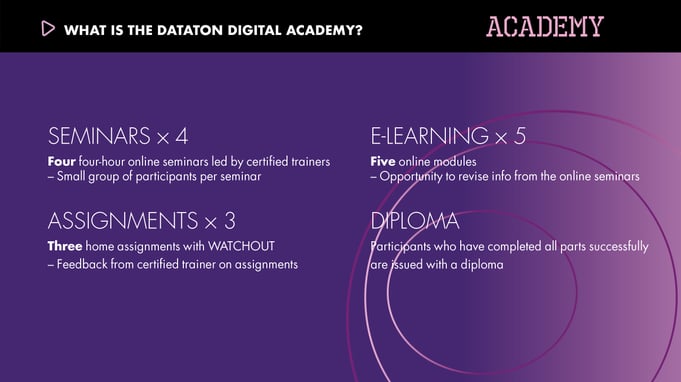 Dataton, Mirage Associates (UK partners) and Show Sage have all hosted Digital Academy training sessions and the demand for places is high. Check out the training schedule for more info.
at a college near you: educational licenses
Over the years, Dataton and its partners have often supported educational institutions or stagecraft courses with product and technical know-how. Five years ago, a new program was launched to provide a standardized offering to schools, colleges and other educational institutions with WATCHOUT on the curriculum. The Dataton Educational License program offers full-featured WATCHOUT licenses at a special discounted price for educational facilities. This model has proved very popular worldwide, making it possible for students to get hands-on experience with one of the most widely used media server systems around.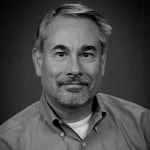 Jim Testa, president, Show Sage, concludes, "We see the educational license program as an important long-term investment. Supporting the efforts of schools to include WATCHOUT in the curriculum enables them to teach real-world scenarios using industry-standard tools. This, in turn, is good for the whole industry as new graduates leave their schools already having had hands-on experience using WATCHOUT to design, program and run shows."
Interested in finding out more about Dataton WATCHOUT production and playback software? Download it for free and then sign up for a Dataton Academy!

#datatonacademy #datatonwatchout #training
More reading:
A beginner's guide to AV
Maximizing tech support: Get ready, get smart
8 tips to make the most of your next training session
Guide to becoming a media server professional 1-10
An earlier version of this blog can be seen in Livedesignonline