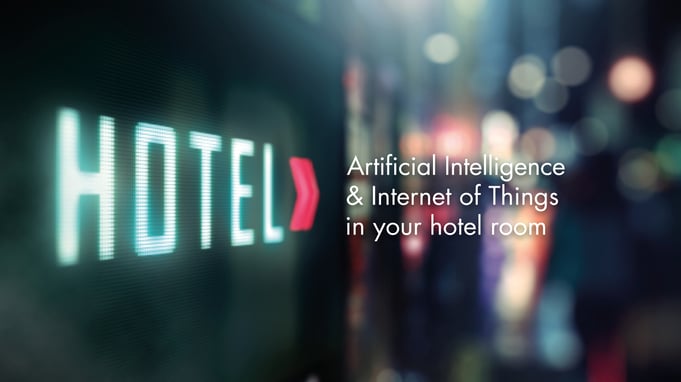 Whether you see it as a bane or a boon (or simply part of the job), numerous hotel nights are the norm for many AV professionals. This week's blog takes a look at how the hospitality industry is focused on keeping pace with emerging hotel room technology, with artificial intelligence (AI) and Internet of Things (IoT) among the most likely to check in.
Read on…
Time for new tech to check in?
Artificial intelligence is at home in hotel rooms
IoT makes hotel rooms more hands-free
TIME FOR NEW TECH TO CHECK IN?
It wasn't that long ago that typical hotel room technology consisted of an old-school CRT TV and very confusing remote control. You'd leave your home and office where flat-panel TVs were omnipresent and seemingly go back in time as you enter your hotel room.
The hospitality industry seems focused on no longer lagging behind the times.
In fact, it seems like AV integrators serving hotel customers may have their work cut out for them if they want to keep pace with the hotel industry's focus on mirroring today's emerging technology home and office experiences in guest rooms.
Here's a look at two technology trends checking into hotel rooms: Artificial Intelligence and the Internet of Things.
Artificial intelligence is at home in hotel rooms
When many people walk into their homes they're accustomed to telling Alexa to turn on the lights, have her order a pizza and ask her what channel the game is on. That expectation is carrying over to hotel rooms and Amazon is ready, as Commercial Integrator recently reported.
In 2018, Amazon introduced Alexa for Hospitality, a special version of its voice control device that will be distributed to hotels, vacation rental properties and other getaway spots by request.
For those who are interested in bringing the Alexa experience from their living rooms to their hotel rooms, Alexa for Hospitality will be customized and tailored to each location. Guests will be able to order room service, request housekeeping or adjust room controls (thermostat, blinds, lights, etc.) using an Amazon Echo in their rooms.
They can also ask location-specific questions, such as what time the hotel pool closes or where the fitness center is.
Marriott International plans to integrate Alexa for Hospitality at select Marriott Hotels, Westin Hotels & Resorts, St. Regis Hotels & Resorts, Aloft Hotels, and Autograph Collection Hotels starting this summer.
The Wynn Las Vegas has already put Echos in rooms — even before Amazon optimized Alexa to interact with new guests every day.
According to Amazon officials, the well-known security and privacy issues have been limited in the hotel-based version so recordings of commands are deleted daily; hotels are not given access to voice recordings of AI interactions; and hotels are not able to review Alexa's responses to users
Hotels, meanwhile, can use Alexa for Hospitality to "measure engagement through analytics."
Amazon says users will "soon" be able to temporarily link their own Amazon accounts with Echos that are running Alexa for Hospitality to have access to their Amazon Music and Spotify subscriptions or Audible audiobooks.
I
o

T Makes Hotel rooms more hands-free

The fewer devices guests have to touch in a hotel room, the better. It's one reason why Internet of Things (IoT) is such a good fit – and why Samsung and Marriott are investing in it.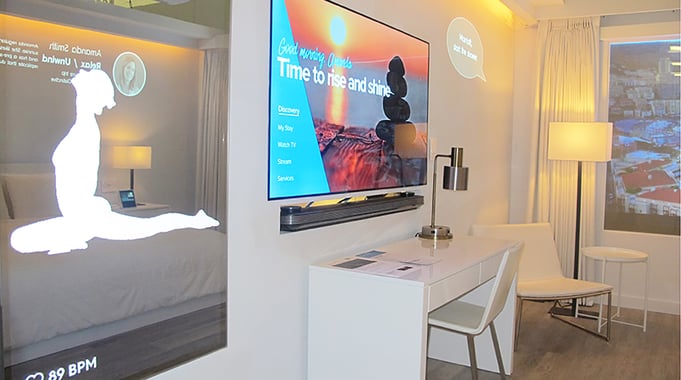 Imagine walking into a guest room as it optimizes to preferred temperature and lighting.
Marriott with its Marriott's Innovation Lab is working with Samsung and Legrand on an IoT Guest Room Lab that it hopes will use Internet of Things to continually improve and personalize its guests' in-room experience.
According to Marriott, the IoT Guest Room Lab explores concepts that have the potential to elevate the guest experience, create more efficient hotel room design and construction, and contribute to Marriott's global sustainability efforts and goals.
Working with partners including Samsung and Legrand, the IoT Guest Room Lab allows multiple responsive Internet of Things systems, devices and applications to communicate with one another to serve guests and optimize hotel operations.
"We know that our guests expect to personalize almost everything in their lives, and their hotel experience should be no different," says Stephanie Linnartz, global chief commercial officer, Marriott International.
This edited article is republished by kind permission of Commercial Integrator (commercialintegrator.com)

More reading
Digital disruption in hospitality: Seven top technology applications, Hospitality Technology
Top 8 hotel room technologies, Buzztime
AV in Hotels, Systems Integration Asia
Technology in the hospitality industry – exploring the very latest trends, Aurecon